A pioneering 3D computer-animated short 16 mm film made in 1983 in Australia
A dreamer imagines she can tour her mind, which is laid out like a house. Each room contains objects and activities relating to different aspects of herself. But something starts to go wrong...
Soundtrack by Willy Zygier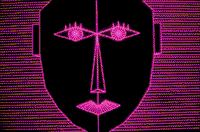 Selected for screening at the 1984 SIGGRAPH Electronic Theatre and inclusion in issue 15, SIGGRAPH Video Review
Finalist in the Fine Art category at FX84 Computer Animation Film Festival in London in 1984
Award of Merit in the Video Graphics section of the First Australian Video Festival in 1986
Part of the Australian Center For Moving Image's Lending Collection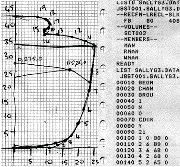 Traces of the production process
Software was Movie.BYU; data entry involved graph paper and the entry of coordinate points and vectors...
I have written about the process here in Snapshot One